Grand Chapiteau at Dodger Stadium
1000 Elysian Park Ave.
Los Angeles
CA
90012
Venue Images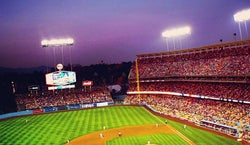 Accessibility
Accessible or ADA seating may be available at this venue through Goldstar. Contact us before buying tickets to make arrangements.
Advisories
Special-access seating is not available through this offer. The Sit With Friends feature can't be used for this event. The show starts on time and latecomers will be seated only during a suitable break in the performance. The advertised full-price is subject to change. This is a big top show. The venue has poles and stands to hold up equipment. These may block portions of the stage, but the show has been choreographed so that the main action takes place in the center of the stage, which is visible from all seats.
25 Grand Chapiteau at Dodger Stadium Tips
Dine before you go

2

Food and drinks for purchase

1
FYI, parking at Dodger Stadium is $25.
Not sure if you can buy parking ahead of time to save money. $25 at the gate.
Sneak in your own booze in a deep jacket pocked to avoid the outrageous concession charges
There are many excellent places to eat near by. We had Dinner at Pok Pok about a mile away from the theater.
The weather was cool. I wore light jacket..
Be ready to pay 25 dollars for parking Ouch. And give yourself plenty of time to get there as traffic was tough.
Parking was $25.
Cirque du Soleil's KURIOS — Cabinet of Curiosities
Nearby Venues in Los Angeles
Top Events at Grand Chapiteau at Dodger Stadium
Recent Events at Grand Chapiteau at Dodger Stadium