Children's Theatre Company - UnitedHealth Group Stage
2400 Third Avenue South
Minneapolis
MN
55404
Located in the Minneapolis Institute of Arts Complex
Venue Images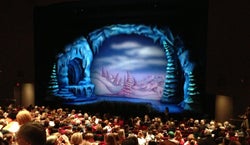 Advisories
All audience members must have a ticket, regardless of age. Lap passes are available for purchase at the theater for children age 3 and under. The full price and the Goldstar price include a $1.00 facility fee.
53 Children's Theatre Company - UnitedHealth Group Stage Tips
The weather was Warm, partly cloudy. I wore Capris, with a nice blouse and sweather..
I'm glad I brought a sweater, as I chill easily.
Snacks, drinks and water
Pinocchio
Street and parking ramp
Pinocchio
Nearby Venues in Minneapolis-St. Paul
Top Events at Children's Theatre Company - UnitedHealth Group Stage
Recent Events at Children's Theatre Company - UnitedHealth Group Stage