Mountain View Center for the Performing Arts - Main Stage
500 Castro Street
Mountain View
CA
94041
at Mercy Street
Venue Images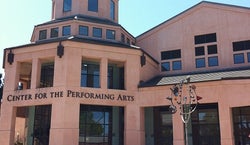 Mountain View Center for the Performing Arts - Main Stage Tickets and Event Schedule
Wednesday, Jan 23, 2019 / 7:30pm

Thursday, Jan 24, 2019 / 8:00pm

Friday, Jan 25, 2019 / 8:00pm

Saturday, Jan 26, 2019 / 2:00pm

Saturday, Jan 26, 2019 / 8:00pm

Sunday, Jan 27, 2019 / 2:00pm

Sunday, Jan 27, 2019 / 7:00pm

Thursday, Feb 21, 2019 / 7:30pm

Friday, Feb 22, 2019 / 7:30pm

Saturday, Feb 23, 2019 / 2:00pm

Saturday, Feb 23, 2019 / 7:30pm

Sunday, Feb 24, 2019 / 2:00pm
Accessibility
Accessible or ADA seating may be available at this venue through Goldstar. Contact us before buying tickets to make arrangements.
287 Mountain View Center for the Performing Arts - Main Stage Tips
Casual

3

Dressy

2

Festive

1
Parking is free

2

Park in lot

1

Parking is a breeze

1
Dine before you go

4

Food and drinks for purchase

2

No food allowed

1
Plenty of choices along Castro street, can have a light salad in the Deli inside the venue.
Smuin's The Christmas Ballet
The weather was a night of rain but free parking underneath the venue. I wore I wore sweater and slacks and had dinner prior to attending..
Smuin's The Christmas Ballet
restaurants galore on Castro St, Mtn. View within walking distance of theater.
Native Gardens
I wore slacks and short sleeve shirt.
Native Gardens
I wore a light sweater, but I should have worn a heavier sweater or jacket because the theater was quite cold..
Be on time. There is a small deli/coffee/wine/beer facility inside the facility. Great choices. Just enjoy the venue.
Hershey Felder in Our Great Tchaikovsky
Many, many choices of places to eat. I recommend using tripadvisor and pick the food type you like.
Hershey Felder in Our Great Tchaikovsky
Nearby Venues in San Jose
Top Events at Mountain View Center for the Performing Arts - Main Stage
Recent Events at Mountain View Center for the Performing Arts - Main Stage