Pear Theatre
1110 La Avenida Street
Mountain View
CA
94043
Venue Images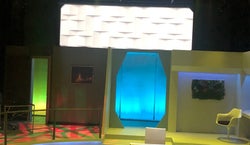 Pear Theatre Tickets and Event Schedule
Thursday, May 2, 2019 / 8:00pm (Preview night)

Friday, May 3, 2019 / 8:00pm (Opening Night)

Saturday, May 4, 2019 / 8:00pm

Sunday, May 5, 2019 / 2:00pm

Thursday, May 9, 2019 / 8:00pm

Friday, May 10, 2019 / 8:00pm

Saturday, May 11, 2019 / 8:00pm

Sunday, May 12, 2019 / 2:00pm

Thursday, May 16, 2019 / 8:00pm

Friday, May 17, 2019 / 8:00pm

Saturday, May 18, 2019 / 8:00pm

Sunday, May 19, 2019 / 2:00pm
Accessibility
Accessible or ADA seating may be available at this venue through Goldstar. Contact us before buying tickets to make arrangements.
Advisories
Late seating is not permitted due to the intimacy of the venue.
Pear Theatre Tips
Beer / Wine / Coffee and light snacks were available for purchase and consumption in the theater.
I wore I wore pearls to meet Edith Head. A man in the audience wearing a flannel shirt found himself included in the play (I wish she had called him out for eating chips or whatever the noise behind me of crinkly paper. Perhaps she did, equating his shirt with his lack of manners?) She did say, "You knew you were meeting Edith Head tonight, didn't you?".
Cucina Venti on Pear Street, a highly rated Italian restaurant, offers a discount to Pear Theater patrons. Ask the host/hostess or your waiter.
Leave time, if it's your first time at this location, to find the theater at the back of a commercial building.
Cucina Venti is a great place to eat dinner before the show. The food is delicious, fresh, and very Italian.
Pear Slices 2016: Short Play Festival
Nearby Venues in San Jose
Top Events at Pear Theatre
Recent Events at Pear Theatre