Players Theatre
115 MacDougal Street
New York City
NY
10012
Between West 3rd and Minetta Lane
Venue Images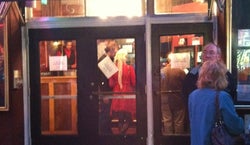 Players Theatre Tickets and Event Schedule
Friday, Oct 18, 2019 / 7:00pm

Saturday, Oct 19, 2019 / 7:00pm

Saturday, Oct 19, 2019 / 3:00pm

Saturday, Oct 19, 2019 / 7:00pm

Sunday, Oct 20, 2019 / 3:00pm

Sunday, Oct 20, 2019 / 11:00am

Monday, Oct 21, 2019 / 8:00pm

Thursday, Oct 24, 2019 / 7:00pm

Friday, Oct 25, 2019 / 7:00pm

Saturday, Oct 26, 2019 / 7:00pm

Saturday, Oct 26, 2019 / 3:00pm

Saturday, Oct 26, 2019 / 7:00pm

Sunday, Oct 27, 2019 / 3:00pm

Sunday, Oct 27, 2019 / 11:00am

Monday, Oct 28, 2019 / 8:00pm

Saturday, Nov 2, 2019 / 3:00pm

Saturday, Nov 2, 2019 / 7:00pm

Sunday, Nov 3, 2019 / 11:00am

Monday, Nov 4, 2019 / 8:00pm

Monday, Nov 11, 2019 / 8:00pm

Monday, Nov 18, 2019 / 8:00pm

Monday, Nov 25, 2019 / 8:00pm

Sunday, Dec 1, 2019 / 2:00pm

Thursday, Dec 5, 2019 / 7:00pm

Friday, Dec 6, 2019 / 7:00pm

Sunday, Dec 8, 2019 / 11:00am

Sunday, Dec 8, 2019 / 2:00pm

Thursday, Dec 12, 2019 / 7:00pm

Friday, Dec 13, 2019 / 7:00pm

Sunday, Dec 15, 2019 / 11:00am

Sunday, Dec 15, 2019 / 2:00pm

Thursday, Dec 19, 2019 / 7:00pm

Friday, Dec 20, 2019 / 7:00pm
Accessibility
Accessible or ADA seating is not available at this venue through Goldstar.
The theater and restroom are not wheelchair accessible.
Advisories
Please note that if you are late to the performance, the house staff reserves the right to seat you where you will cause the least disruption to the other patrons. There will be no late entry during the first 10 minutes of the performance. This theatre and restroom are not handicap accessible.
384 Players Theatre Tips
Take public transit

8

Parking is scarce

3

Parking is expensive

1
Dine before you go

9

Food and drinks for purchase

1

No food allowed

1
So many places to eat around theater at any price range
Shuka and twelve chairs are right down the block. Highly recommend.
Quantum Leap restaurant was a great place for healthy drinks, smoothees , coffee, desserts and other items before or after the show. Only about a block away!
A Christmas Carol: The Musical
Public transit is only one block away. It was a little difficult for us to locate the theater at first so allow extra time to find it.
Parked on Thompson St. for $18 with parkwhiz.com
Dine before or after In the Village at Dantes - great outdoor seating.
Nearby Venues in New York
Top Events at Players Theatre
Recent Events at Players Theatre