The Westside Theatre - Upstairs Theatre
407 West 43rd Street
New York City
NY
10036
Venue Images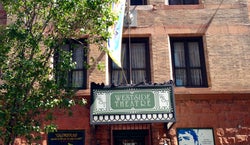 Accessibility
Accessible or ADA seating may be available at this venue through Goldstar. Contact us before buying tickets to make arrangements.
For information about this venue's accessibility, please check here.
Advisories
For this event, the Sit With Friends feature has been disabled because the ticket supplier is not able to seat you together with parties who purchased separately. You will only be seated together for tickets purchased in a single transaction. The Upstairs Theatre is on the 2nd Floor (21 steps) and is not wheelchair accessible. Please be advised that where there are steps either into or within the theatre, we are unable to provide assistance.
250 The Westside Theatre - Upstairs Theatre Tips
The weather was Coldish!. I wore Comfortable, and expressing the you!.
For great Italian food at very reasonable prices walk 3 blocks to W 46th Street to Becco on 46th between 8th and 9th Aves.
The weather was sunny. I wore Casual dress - intimate off broadway theatre -upside of casual. I wore simple summer dress hubby jeans and cool shirt..
Cagney
West Bank Cafe on 42nd street -around the corner Zagat review 4 star and $$Good eats and reasonable around the corner from West End Theatre for Cagney
Cagney
Love Don Giovanni a block away.
I wore jeans, casual attire.
Don't expect Belle Barth.
Nearby Venues in New York
Top Events at The Westside Theatre - Upstairs Theatre
Recent Events at The Westside Theatre - Upstairs Theatre