Groove
125 Macdougal St.
New York
NY
10012
Venue Images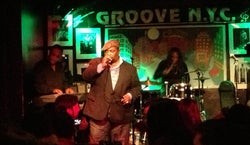 Groove Tickets and Event Schedule
Wednesday, Nov 21, 2018 / 7:00pm

Saturday, Dec 1, 2018 / 7:30pm
Accessibility
Accessible or ADA seating may be available. Please contact us before buying tickets to make arrangements.
Advisories
There is a two-item minimum purchase requirement at this event.
Groove Tips
Food and drinks for purchase

1
Nice variety of eatery options along Macdougal Street.
From Paris With Love
When you are settled in your seat, a waiter gives you a drink menu and a food menu. A non-drinker, I purchased a sandwich which was good and cost $12 with taxes. All alcohol drinks are $4 until 7 P.M. (Happy Hour)., arrive early.
SantanaRia: Santana Tribute
The event took place in a bar, with three long rows of tables. It was an enjoyable time.
SantanaRia: Santana Tribute
Public transportation let's you off within 1 block and is probably best to take.
SantanaRia: Santana Tribute
Parking Near Groove
Click to View Interactive Map
Nearby Venues in New York