New World Stages -- Stage 1
340 West 50th Street
New York
NY
10019
Venue Images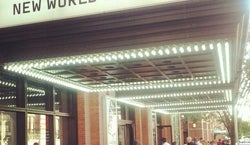 New World Stages -- Stage 1 Tickets and Event Schedule
Wednesday, Nov 21, 2018 / 2:00pm

Wednesday, Nov 21, 2018 / 7:00pm

Friday, Nov 23, 2018 / 2:00pm

Friday, Nov 23, 2018 / 8:00pm

Saturday, Nov 24, 2018 / 2:00pm

Saturday, Nov 24, 2018 / 8:00pm

Sunday, Nov 25, 2018 / 3:00pm
Accessibility
Accessible or ADA seating may be available. Please contact us before buying tickets to make arrangements.
Advisories
For this event, the Sit With Friends feature has been disabled because the ticket supplier is not able to seat you together with parties who purchased separately. You will only be seated together for tickets purchased in a single transaction.
86 New World Stages -- Stage 1 Tips
Ate at BBQ's on 42nd street. (Well I always eat there) short distance from the event and the food is delicious with great price points!
The weather was Cold. I wore A sweater and jeans. .
The weather was windy and cold. I wore a winter coat jeans and sneakers..
In the plaza directly behind the theatre is a very good and reasonably priced Mexican restaurant.
The weather was a chilly evening.. I wore a sweater and blue jeans..
Get a coupon for Icon parking and park at 53rd and 10th for $22
Nevermore - The Imaginary Life & Mysterious Death of Edgar Allan Poe
Went to 123 Burger Beer Shots on 10th Ave. Great chicken wings and sliders. Beer were cheap but the shots were very expensive.
Nevermore - The Imaginary Life & Mysterious Death of Edgar Allan Poe
Parking Near New World Stages -- Stage 1
Click to View Interactive Map
Nearby Venues in New York
Top Events at New World Stages -- Stage 1
Recent Events at New World Stages -- Stage 1