Radio City Music Hall
1260 Avenue of the Americas
New York
NY
10020
Venue Images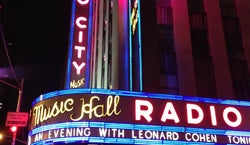 Radio City Music Hall Tickets and Event Schedule
Tuesday, Oct 22, 2019 / 9:30am - 3:00pm

Wednesday, Oct 23, 2019 / 9:30am - 3:00pm

Thursday, Oct 24, 2019 / 9:30am - 3:00pm

Friday, Oct 25, 2019 / 9:30am - 3:00pm

Saturday, Oct 26, 2019 / 9:30am - 3:00pm

Sunday, Oct 27, 2019 / 9:30am - 3:00pm

Monday, Oct 28, 2019 / 9:30am - 3:00pm

Tuesday, Oct 29, 2019 / 9:30am - 3:00pm

Wednesday, Oct 30, 2019 / 9:30am - 3:00pm

Thursday, Oct 31, 2019 / 9:30am - 3:00pm

Friday, Nov 1, 2019 / 9:30am - 3:00pm

Saturday, Nov 2, 2019 / 9:30am - 3:00pm

Sunday, Nov 3, 2019 / 9:30am - 3:00pm

Monday, Nov 4, 2019 / 9:30am - 3:00pm

Tuesday, Nov 5, 2019 / 9:30am - 3:00pm

Wednesday, Nov 6, 2019 / 9:30am - 3:00pm

Thursday, Nov 7, 2019 / 9:30am - 3:00pm

Friday, Nov 8, 2019 / 9:30am - 3:00pm

Friday, Nov 8, 2019 / 11:00am (Santa Hat Day)

Friday, Nov 8, 2019 / 2:00pm (Santa Hat Day)

Friday, Nov 8, 2019 / 8:00pm (Santa Hat Day)

Saturday, Nov 9, 2019 / 9:30am - 3:00pm

Saturday, Nov 9, 2019 / 11:00am (Santa Hat Day)

Saturday, Nov 9, 2019 / 5:00pm (Santa Hat Day)

Saturday, Nov 9, 2019 / 8:00pm (Santa Hat Day)

Sunday, Nov 10, 2019 / 9:30am - 3:00pm

Sunday, Nov 10, 2019 / 2:00pm (Santa Hat Day)

Sunday, Nov 10, 2019 / 5:00pm (Santa Hat Day)

Sunday, Nov 10, 2019 / 8:00pm (Santa Hat Day)

Monday, Nov 11, 2019 / 9:30am - 3:00pm

Monday, Nov 11, 2019 / 11:00am (Santa Hat Day)

Monday, Nov 11, 2019 / 2:00pm (Santa Hat Day)

Monday, Nov 11, 2019 / 8:00pm (Santa Hat Day)

Tuesday, Nov 12, 2019 / 9:30am - 3:00pm

Wednesday, Nov 13, 2019 / 9:30am - 3:00pm

Wednesday, Nov 13, 2019 / 2:00pm

Thursday, Nov 14, 2019 / 9:30am - 3:00pm

Friday, Nov 15, 2019 / 9:30am - 3:00pm

Friday, Nov 15, 2019 / 2:00pm

Friday, Nov 15, 2019 / 8:00pm

Saturday, Nov 16, 2019 / 9:30am - 3:00pm

Saturday, Nov 16, 2019 / 2:00pm

Sunday, Nov 17, 2019 / 9:30am - 3:00pm

Sunday, Nov 17, 2019 / 5:00pm (Santa Hat Day)

Sunday, Nov 17, 2019 / 8:00pm (Santa Hat Day)

Monday, Nov 18, 2019 / 9:30am - 3:00pm

Monday, Nov 18, 2019 / 2:00pm (Santa Hat Day)

Monday, Nov 18, 2019 / 8:00pm (Santa Hat Day)

Tuesday, Nov 19, 2019 / 9:30am - 3:00pm

Wednesday, Nov 20, 2019 / 9:30am - 3:00pm

Wednesday, Nov 20, 2019 / 2:00pm (Santa Hat Day)

Wednesday, Nov 20, 2019 / 8:00pm (Santa Hat Day)

Thursday, Nov 21, 2019 / 9:30am - 3:00pm

Friday, Nov 22, 2019 / 9:30am - 3:00pm

Friday, Nov 22, 2019 / 2:00pm

Saturday, Nov 23, 2019 / 9:30am - 3:00pm

Saturday, Nov 23, 2019 / 8:00pm

Sunday, Nov 24, 2019 / 9:30am - 3:00pm

Sunday, Nov 24, 2019 / 11:00am

Sunday, Nov 24, 2019 / 5:00pm

Sunday, Nov 24, 2019 / 8:00pm

Monday, Nov 25, 2019 / 9:30am - 3:00pm

Tuesday, Nov 26, 2019 / 9:30am - 3:00pm

Tuesday, Nov 26, 2019 / 11:00am

Wednesday, Nov 27, 2019 / 9:30am - 3:00pm

Thursday, Nov 28, 2019 / 9:30am - 3:00pm

Friday, Nov 29, 2019 / 9:30am - 3:00pm

Friday, Nov 29, 2019 / 10:00pm

Saturday, Nov 30, 2019 / 9:30am - 3:00pm

Saturday, Nov 30, 2019 / 10:00pm

Sunday, Dec 1, 2019 / 9:30am - 3:00pm

Sunday, Dec 1, 2019 / 8:00pm

Monday, Dec 2, 2019 / 9:30am - 3:00pm

Tuesday, Dec 3, 2019 / 9:30am - 3:00pm

Wednesday, Dec 4, 2019 / 9:30am - 3:00pm

Thursday, Dec 5, 2019 / 9:30am - 3:00pm

Friday, Dec 6, 2019 / 9:30am - 3:00pm

Saturday, Dec 7, 2019 / 9:30am - 3:00pm

Sunday, Dec 8, 2019 / 9:30am - 3:00pm

Monday, Dec 9, 2019 / 9:30am - 3:00pm

Tuesday, Dec 10, 2019 / 9:30am - 3:00pm

Wednesday, Dec 11, 2019 / 9:30am - 3:00pm

Thursday, Dec 12, 2019 / 9:30am - 3:00pm

Friday, Dec 13, 2019 / 9:30am - 3:00pm

Saturday, Dec 14, 2019 / 9:30am - 3:00pm

Sunday, Dec 15, 2019 / 9:30am - 3:00pm

Monday, Dec 16, 2019 / 9:30am - 3:00pm

Tuesday, Dec 17, 2019 / 9:30am - 3:00pm

Wednesday, Dec 18, 2019 / 9:30am - 3:00pm

Thursday, Dec 19, 2019 / 9:30am - 3:00pm

Friday, Dec 20, 2019 / 9:30am - 3:00pm

Saturday, Dec 21, 2019 / 9:30am - 3:00pm

Sunday, Dec 22, 2019 / 9:30am - 3:00pm

Monday, Dec 23, 2019 / 9:30am - 3:00pm

Tuesday, Dec 24, 2019 / 9:30am - 3:00pm

Wednesday, Dec 25, 2019 / 9:30am - 3:00pm

Thursday, Dec 26, 2019 / 9:30am - 3:00pm

Friday, Dec 27, 2019 / 9:30am - 3:00pm

Saturday, Dec 28, 2019 / 9:30am - 3:00pm

Sunday, Dec 29, 2019 / 9:30am - 3:00pm

Monday, Dec 30, 2019 / 9:30am - 3:00pm

Tuesday, Dec 31, 2019 / 9:30am - 3:00pm
Accessibility
Accessible or ADA seating is not available at this venue through Goldstar.
Advisories
All children age 2 and older require a ticket. Any child younger than 2 does not require a ticket, provided they sit on a parent or guardian's lap. They may not occupy their own seat unless an additional ticket is purchased.
657 Radio City Music Hall Tips
Casual

6

Dressy

6

Festive

2
Take public transit

6

Arrive early

3

Parking is expensive

1
Dine before you go

1

Food and drinks for purchase

1
The weather was drizzly. I wore A dress, boots. You're going to see the Rockettes at Radio City - get dressed up! .
Be prepared for tight security when you enter the theater.
Christmas Spectacular Starring the Radio City Rockettes
The weather was Cold.. I wore Warm comfortable clothing..
51 st between 8th and 9th ave outside parking 20 parking cash
The weather was winter cold we wore hats and gloves and warm cloths so we could walk around and see the tree.
The weather was Cold. I wore A turtle neck, jeand and heeled boots..
Christmas Spectacular Starring the Radio City Rockettes
They don't stop you from bringing in snacks, so to avoid really expensive popcorn and water, bring some nuts or crackers for the kids in a ziplock
Nearby Venues in New York
Top Events at Radio City Music Hall
Recent Events at Radio City Music Hall