The Hulu Theater at Madison Square Garden
Four Penn Plaza
New York
NY
10001
Venue Images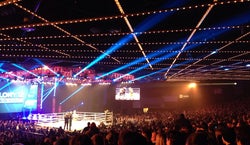 The Hulu Theater at Madison Square Garden Tickets and Event Schedule
Saturday, Dec 1, 2018 / 8:00pm

Thursday, Dec 13, 2018 / 11:00am

Thursday, Dec 13, 2018 / 8:00pm

Sunday, Dec 16, 2018 / 6:00pm

Wednesday, Dec 19, 2018 / 7:00pm

Thursday, Dec 20, 2018 / 7:30pm

Saturday, Dec 22, 2018 / 7:00pm

Sunday, Dec 23, 2018 / 6:00pm

Wednesday, Dec 26, 2018 / 2:00pm

Wednesday, Dec 26, 2018 / 6:00pm

Thursday, Dec 27, 2018 / 4:00pm

Thursday, Dec 27, 2018 / 8:00pm

Friday, Dec 28, 2018 / 6:00pm

Saturday, Dec 29, 2018 / 6:00pm

Sunday, Dec 30, 2018 / 1:00pm

Sunday, Dec 30, 2018 / 4:00pm
Accessibility
Accessible or ADA seating is not available at this venue through Goldstar.
Advisories
Children ages 1 and older must have their own ticket. Accessible seating is not available through this ticket offer.
284 The Hulu Theater at Madison Square Garden Tips
Take public transit

2

Arrive early

1
if you could get tickets near the fron I would assume the sound would be better
or, add your own...
Sesame Street Live: Make A New Friend
The weather was frigid. I wore a lot of clothing was very warm in venue.
Sesame Street Live: Make A New Friend
Theater at Msg is easy to get to just remember to use the entrance on 7th&32nd!
free stroller parking is available. free and easy
The weather was Cold and windy. I wore a sweater inside the venue but it wasn't necessary due to the freezing temps outside they accommodated by having the heat on..
Awfully cold inside the theater. People kept coats on. Very informal dress.
Parking Near The Hulu Theater at Madison Square Garden
Click to View Interactive Map
Nearby Venues in New York
Top Events at The Hulu Theater at Madison Square Garden
Recent Events at The Hulu Theater at Madison Square Garden