The Lounge at Roy Arias Studios
300 W 43rd St, Ste. 506, 4th Floor
New York
NY
10036
at 8th Avenue
Venue Images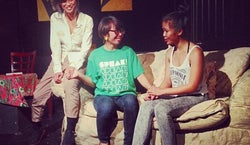 Accessibility
Accessible or ADA seating may be available at this venue through Goldstar. Contact us before buying tickets to make arrangements.
*
Advisories
This venue requires a two-item minimum purchase per person.
252 The Lounge at Roy Arias Studios Tips
There is a bar, but get your drinks before the show starts. The performers double as bar staff
The seating area is small so get their early to pick your seat. Also, be prepared to participate.
drinks can be bought at the bar
Bad Dancing
Very easy to locate, right off the Avenue
Extremely accessible, and may find parking, although not too easily.
Nearby Venues in New York
Top Events at The Lounge at Roy Arias Studios
Recent Events at The Lounge at Roy Arias Studios