Music Center at Strathmore
5301 Tuckerman Lane
North Bethesda
MD
20852
Venue Images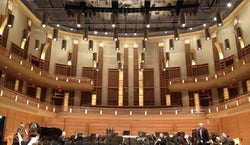 Music Center at Strathmore Tickets and Event Schedule
Friday, Dec 21, 2018 / 8:00pm

Saturday, Dec 22, 2018 / 8:00pm

Sunday, Dec 23, 2018 / 3:00pm

Sunday, Dec 30, 2018 / 3:00pm

Saturday, Jan 26, 2019 / 8:00pm

Sunday, Jan 27, 2019 / 3:00pm
Accessibility
Accessible or ADA seating is regularly available. Please contact us after buying tickets by replying to your confirmation email to make arrangements.
Please contact us immediately after buying your tickets so we can inform the venue of your needs.
345 Music Center at Strathmore Tips
Take public transit

1

Parking is free

1
Parking Near Music Center at Strathmore
Click to View Interactive Map
Nearby Venues in Washington, D.C.
Top Events at Music Center at Strathmore
Recent Events at Music Center at Strathmore