Drury Lane Theatre
100 Drury Lane
Oakbrook Terrace
IL
60181
Venue Images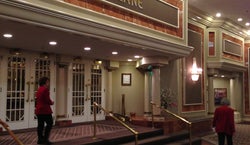 Accessibility
Accessible or ADA seating may be available at this venue through Goldstar. Contact us before buying tickets to make arrangements.
About Drury Lane Theatre
Just minutes from downtown Chicago, Drury Lane Theatre is a gorgeous and versatile facility that's among the city's best-loved places to take in an evening of live entertainment. Along with concerts showcasing the best in local and national performers, the theater has gained a reputation for its world-class theatrical shows, with award-winning productions of modern musicals, classic comedies and timeless favorites from the Great White Way, plus crowd-pleasing family shows at its popular Theatre for Young Audiences. Drury Lane's spacious, proscenium-style theater features seating for nearly 1,000 attendees.
Advisories
Children age 5 or younger are not permitted inside the theater.
834 Drury Lane Theatre Tips
Parking is free

3

Arrive early

1
Dine before you go

4

Food and drinks for purchase

1
Food is terrific..and a great deal on lunch!
We went to the 1:30 play then headed over to Pinstripes, less than a mile away, for a great meal sitting outside on their patio
The weather was Sunny & warm. I wore Sundress & sandals. Bring a sweater because theater is rather chilly .
The weather was Hot, hot, hot and the AC was full throttle.. I wore Just because it's hot out, doesn't mean theater is. Bring a sweater or shawl ... or freeze in your sleeveless summer wear..
Not really a bad seat in this intimate theater. Surprisingly not sold out for a great production.
Oakbrook mall has a number of outstanding restaurants and is right next to the theatre complex
There are great restaurants in the Oak Brook mall and you can get to the theater through the local roads avoiding all the traffic.
Rock of Ages
Top Events at Drury Lane Theatre
Recent Events at Drury Lane Theatre