Yoshi's Oakland
510 Embarcadero West
Oakland
CA
94607
In Jack London Square across the street from BevMo
Venue Images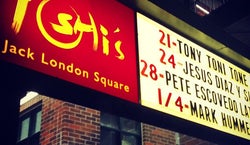 Yoshi's Oakland Tickets and Event Schedule
Wednesday, Nov 28, 2018 / 8:00pm (Carl Verheyen)

Friday, Nov 30, 2018 / 10:00pm (John Santos with Kenny Washington)

Friday, Dec 7, 2018 / 10:00pm (David Benoit Tribute to Charlie Brown)

Sunday, Dec 9, 2018 / 9:00pm ( Ronnie Laws, Eloise Laws, Tom Browne)

Tuesday, Dec 18, 2018 / 8:00pm (Tommy Igoe)

Wednesday, Dec 26, 2018 / 8:00pm (Larry Vuckovich All-Star Sextet)

Thursday, Dec 27, 2018 / 10:00pm (Con Funk Shun)

Tuesday, Feb 26, 2019 / 8:00pm
Accessibility
Accessible or ADA seating may be available. Please contact us before buying tickets to make arrangements.
307 Yoshi's Oakland Tips
Take public transit

1

Park in lot

1

Parking is free

1
Food and drinks for purchase

4
Eat at Yoshi's! Great food for everyone! Vegan and sushi, wonderful organic food!
The weather was Breezy.
Yoshi's Oakland
Eat dinner @ yoshi's the waiter will reserve a seat for you
Yoshi's Oakland
Parking on streets nearby generally safe. Also secure garage
The weather was sunny warm. I wore sandals and a thin jacket and froze my a.... off.
great sushi and beverages
Parking Near Yoshi's Oakland
Click to View Interactive Map
Nearby Venues in Oakland / East Bay
Top Events at Yoshi's Oakland
Recent Events at Yoshi's Oakland