Brooks Theatre
217 North Coast Highway
Oceanside
CA
92054
Venue Images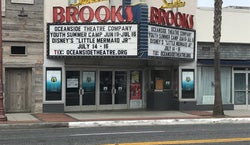 Accessibility
Accessible or ADA seating may be available at this venue through Goldstar. Contact us before buying tickets to make arrangements.
Brooks Theatre Tips
The weather was sunny and clear even tho it was raining in North County Inland.. I wore super casual clothes, cuz that's how we roll in Cali!.
Street [arking, easy to find
Rim Talay Thai is around the corner. It's one of our favorite Thai restaurants in the area.
JazzMikan Trio +
Nearby Venues in San Diego
Top Events at Brooks Theatre
Recent Events at Brooks Theatre