Celebrity Theatre
440 N 32nd St
Phoenix
AZ
85008
at E Fillmore St
Venue Images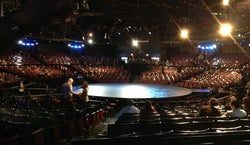 Celebrity Theatre Tickets and Event Schedule
Saturday, Apr 27, 2019 / 6:00pm

Friday, May 3, 2019 / 8:30pm

Friday, May 31, 2019 / 8:00pm

Saturday, Jun 22, 2019 / 7:00pm

Friday, Aug 23, 2019 / 8:30pm
Accessibility
Accessible or ADA seating may be available at this venue through Goldstar. Contact us before buying tickets to make arrangements.
Advisories
Accessible seating must be arranged in advance. Accessible seating is subject to availability and cannot be guaranteed.
42 Celebrity Theatre Tips
Dine before you go

1

No food allowed

1
Knock Kneed Lobster for Seafood !
Your will call tickets are to the left of entrance and down the stairs.
Parking at the venue, $10. Only one entrance off 32nd Street. Approach from the north, if possible.
If you get to the venue early, there's a place to get drinks by Will Call. Be sure to tip your bartender. Each one has their own tip bucket. Warning: There's a fair amount of steps to the Will Call area.
1964: Beatles Tribute
Bring a 10 spot for parking
Yestival: Yes & Friends
We arrived about an hour before the concert. Parking spaces can be a little narrow and $10 fee. Will call was easy and the staff was very friendly in helping us find our section and seats. Seating is a tight and leg room in some rows is tough. Dated venue and bathrooms were small. Sound and lighting was good. Stage rotates and you aren't very far from the stage, even in the upper level.
Celebrity theatre, Phx,Az,, no readmittance after break to force fans to breathe second hand smoke and be totally fleeced for drinks, $7-11 beers, WOW, after decades of memories of great shows never again , I can't support your choice of business model Celebrity, won't ever go back, and will prepare all my friends for the bad news. So for less expensive evening, really, go anywhere else.
The Pink Floyd Experience
Top Events at Celebrity Theatre
Recent Events at Celebrity Theatre