Phoenix Convention Center
100 N. 3rd St
Phoenix
AZ
85004
Venue Images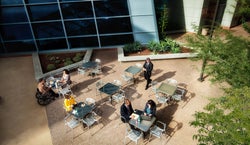 Accessibility
Accessible or ADA seating may be available at this venue through Goldstar. Contact us before buying tickets to make arrangements.
he Phoenix Convention Center & Venues is an accessible facility in compliance with the Americans with Disabilities Act (ADA). The design includes accessible parking and entrances, wheelchair ramps, multiple elevators, automatic doors and accessible restroom facilities.
About Phoenix Convention Center
Named one of the Top 10 facilities of its kind in the entire U.S., the Phoenix Convention Center not only boasts more than 900,000 square feet of meeting and exhibit space, but it's also home to a 2,312-seat symphony hall and the historic 1,364-seat Orpheum Theatre.
This state-of-the-art venue is situated right in the middle of the vibrant downtown area, near restaurants, pro sports stadiums, art museums and more.
Though the original facility opened in 1972, renovations in '06, '08 and '09 expanded and updated the convention center, which now reflects its Arizona setting. The soaring lobby area, in fact, was designed to mimic the angles and light of one of the area's many canyons.
Advisories
General admission tickets do not include autographs or photo opportunities. Children age 10 and under are free with a paid adult. Limit 2 children per paid adult. Costumes are permitted. Weapons are permitted as long as they are not real, blades cannot be metal, and guns cannot have cartridges or projectiles (must also have an orange tip). Crossbows cannot have arrows and arrows aren't permitted inside the convention center.
Top Events at Phoenix Convention Center
Recent Events at Phoenix Convention Center