Rose Quarter - Moda Center
One Center Court
Portland
OR
97227
Venue Images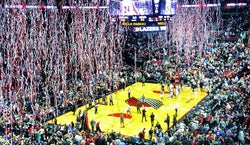 Rose Quarter - Moda Center Tickets and Event Schedule
Friday, Nov 8, 2019 / 7:00pm (vs. Brooklyn Nets)

Wednesday, Nov 13, 2019 / 7:00pm (vs. Toronto Raptors)
Accessibility
Accessible or ADA seating may be available at this venue through Goldstar. Contact us before buying tickets to make arrangements.
Accessibility information for the Rose Quarter.
Advisories
Accessible Seating is not available through Goldstar for this event. These tickets have been provided to us by another ticket supplier and may include a name that's not yours and a price that differs from what is listed on our website. These are authentic, valid tickets. These tickets are non-refundable and non-transferable. There may be heavy traffic, so plan accordingly. Please check venue website for venue policies.
142 Rose Quarter - Moda Center Tips
Take public transit

1

Park in lot

1

Parking is a breeze

1
Nearby Venues in Portland
Top Events at Rose Quarter - Moda Center
Recent Events at Rose Quarter - Moda Center