Hornblower Cruises and Events - Sacramento
1206 Front Street
Sacramento
CA
95814
L Street Dock
Venue Images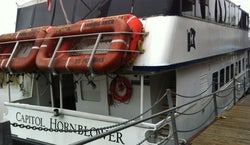 Hornblower Cruises and Events - Sacramento Tickets and Event Schedule
Thursday, Nov 29, 2018 / 12:00pm (Boarding Begins at 11:30am)

Friday, Nov 30, 2018 / 12:00pm (Boarding Begins at 11:30am)

Thursday, Dec 6, 2018 / 1:30pm (Boarding Begins at 1:00pm)

Thursday, Dec 6, 2018 / 3:00pm (Boarding Begins at 2:30pm)

Thursday, Dec 13, 2018 / 1:30pm (Boarding Begins at 1:00pm)

Thursday, Dec 13, 2018 / 3:00pm (Boarding Begins at 2:30pm)
Accessibility
Accessible or ADA seating may be available. Please contact us before buying tickets to make arrangements.
Advisories
Separate reservations and parties larger than 6 cannot be guaranteed seating together. For meal cruises, your cruise price includes the following beverages free of charge: Brunch Cruise: House champagne, orange juice, coffee and tea. Supper Club Cruise: Boarding glass of champagne, water. Dinner Dance Cruise: Water.
158 Hornblower Cruises and Events - Sacramento Tips
Park in lot

1

Arrive early

1
Dine before you go

3

Food and drinks for purchase

2
If you are a later guest you will be stuck with a table on the downstairs inside. It was stuffy in there. I spent the time out front..standing the whole time. So were the people who had the prime reserved tables!
The website gave me the impression that the bar does not take credit cards & is cash only; however, they do take cards & you can leave a tab open on it.
The garage is adjacent to the boarding dock, very convenient for a flat fee of $10.
There are restaurants right on the dock if you are hungry, only snack foods onboard, cocktails are great on the yacht.
The weather was warm and balmy. I wore a sleeveless top and jeans with sandals..
Unless you are able to secure a metered parking spot...none available for the 04:30 trip, you will pay $1.50 per half hour at the main city parking lot located right next door to old Sacramento area....$3/ hour adds up especially if you are visiting old Sacramento, shopping, eating, strolling around and then taking the cruise.....
Parking in Old Sacramento is usually by the hour with meters or in the garage, but since Gold Rush Days was happening, the streets were blocked off so we had to park in the garage for a fixed amount.
Gold Rush Days River Cruise
Parking Near Hornblower Cruises and Events - Sacramento
Click to View Interactive Map
Nearby Venues in Sacramento
Top Events at Hornblower Cruises and Events - Sacramento
Recent Events at Hornblower Cruises and Events - Sacramento