Cal Coast Credit Union Open Air Theatre
5500 Campanile Drive
San Diego
CA
92182
Located at SDSU
Venue Images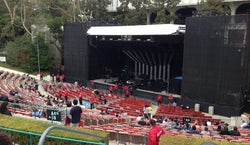 Accessibility
Accessible or ADA seating may be available. Please contact us before buying tickets to make arrangements.
Cal Coast Credit Union Open Air Theatre Tips
The weather was humid. I wore T-Shrit, jeans, boots.
Park in the residential area across the way and walk two blocks to the venue. MapQuest sends you to the wrong address.
Parking Near Cal Coast Credit Union Open Air Theatre
Click to View Interactive Map
Nearby Venues in San Diego
Top Events at Cal Coast Credit Union Open Air Theatre
Recent Events at Cal Coast Credit Union Open Air Theatre