Don Powell Theatre
5500 Campanile Dr.
San Diego
CA
92182
Venue Images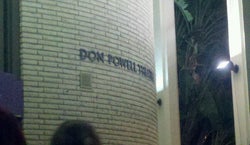 Accessibility
Accessible or ADA seating may be available at this venue through Goldstar. Contact us before buying tickets to make arrangements.
*
Advisories
Parking is across the street and down the block, so it may take up to 15 minutes to park and get into the theater. Please plan appropriately. SDSU enforces parking fees in all parking structures. Permits must be purchased upon arrival and posted on the car's dashboard. Parking kiosks are located on the first and eighth floor of Parking Structure 4.
46 Don Powell Theatre Tips
Park in lot

1

Parking is cheap

1
All seating is open, first come fist served so if you arrive early you will have a GREAT seat, but it's a gorgeous venue and there are no bad seats in the house.
The Drowsy Chaperone
Wear comfortable shoes. It's quite a hike onto the campus to the theater.
If you are pressed for time, don't waste it trying to find street parking. $1/hr and easy to pay via machine in the lot.
Alice: Curiouser and Curiouser!
We parked in PS 6, ate at The Dining Room and walked across the pedestrian bridge for a short jaunt to the theatre. Meal was good, but a bit overpriced. We had a 2for1, but had to pay full price for one of us.
Alice: Curiouser and Curiouser!
There were very few places to dine near the campus, which was surprising. We eventually found a Smash Burger on El Cajon Blvd. Eating in SD or Old Town might be a better option.
Park in the massive 8 story parking structure directly to the West of the theater. Park on the 8th floor and walk across the sky bridge to the theater.
Parking is tricky at SDSU. Allow a lot of time to get to the theater. If you can, take the trolley.
Nearby Venues in San Diego
Top Events at Don Powell Theatre
Recent Events at Don Powell Theatre