Horton Grand Theatre
444 4th Ave
San Diego
CA
92101
Venue Images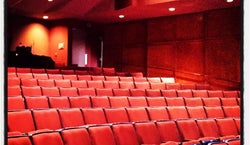 Horton Grand Theatre Tickets and Event Schedule
Sunday, Aug 25, 2019 / 2:00pm

Wednesday, Aug 28, 2019 / 7:30pm

Thursday, Aug 29, 2019 / 7:30pm

Friday, Aug 30, 2019 / 8:00pm
Accessibility
Accessible or ADA seating is regularly available. Contact us after buying tickets by replying to your confirmation email to make arrangements.
296 Horton Grand Theatre Tips
Take public transit

2

Parking is scarce

2

Park in lot

1
Dine before you go

2

Food and drinks for purchase

1
Don't park at Horton Plaza as you must get in after 8:00 p.m. to get the $10 fee. If not, you will pay over $25.00.
Sunday 2PM performances allow for easy parking downtown when meters, yellow and green zones are not enforced.
Miracle on 34th Street: A Live Musical Radio Play
The weather was cool after the sun goes down.. I wore walking shoes, layers for before and after walk from parking. .
The valet is as cheap as the garage so we did that instead of parking ourselves. You have to be back by 11pm to get your car.
We ate at Bice's which was good, but there are several within walking distance that offer any kind of food you could want.
The weather was Nice. I wore Nice pants and matching jacket. It was casual/dressy.
The parking in the nearby (2-3 blocks) Padre Parcade was only $1 an hour. A delite to pay only $3 to see anything downtown!!!
Nearby Venues in San Diego
Top Events at Horton Grand Theatre
Recent Events at Horton Grand Theatre