Hornblower Cruises and Events - San Francisco
3 Pier 101
San Francisco
CA
94111
Pier 3 on The Embarcadero, Hornblower Landing
Venue Images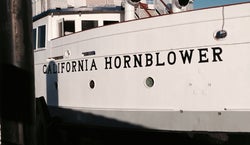 Hornblower Cruises and Events - San Francisco Tickets and Event Schedule
Thursday, Oct 24, 2019 / 6:30pm (Boarding Begins at 6:00pm)

Friday, Oct 25, 2019 / 7:30pm (Boarding Begins at 7:00pm)

Friday, Oct 25, 2019 / 7:30pm (Boarding Begins at 7:00pm)

Saturday, Oct 26, 2019 / 7:30pm (Boarding Begins at 7:00pm)

Saturday, Oct 26, 2019 / 10:00pm (Boarding at 9:30pm)

Sunday, Oct 27, 2019 / 3:30pm (Boarding Begins at 3:00pm)

Thursday, Oct 31, 2019 / 7:00pm (Boarding Begins at 6:30pm)

Thursday, Oct 31, 2019 / 8:00pm (Boarding Begins at 7:30pm)

Thursday, Oct 31, 2019 / 9:00pm (Must Arrive by 9:30pm)
Accessibility
Accessible or ADA seating may be available at this venue through Goldstar. Contact us before buying tickets to make arrangements.
Yes
311 Hornblower Cruises and Events - San Francisco Tips
Dressy

3

Casual

2

Formal

1
You can park in the lot next to the departure of the Hornblower. Food & drinks can be purchased on board the cruise. Wear a jacket as it can get cold when the sun goes down. Bring a charger for your phone as you'll want to take pictures & you won't want to miss the photo opportunities.
The weather was Sunny with wind chill from the Bay/ Ocean. I wore A tank top with a denim blouse over it with black skinny jeans and black casual combat boots. Be sure to bring a coat or warm jacket or cardigan. It got chilly once in the bay with wind chills..
The weather was Windy, foggy, sunny. I wore Dress in layers with a warm sweater or coat..
Come on a empty stomach. You will be eating a 5 coarse meal. Very fulfilling.
I wore a casual black dress. I went off the recommended dress code provided and was a little perturbed when some attendees showed up in jeans and T-shirt's. Business casual would be proper. .
Can drive there a little early and easily park in the lot at Pier 3 for only $10....or ride Bart to Embarcadero and walk a few blocks....a relatively painless jaunt into the city.
Remember to tip according to full price of tickets and tip the music host please.
San Francisco Dinner Cruise
Nearby Venues in San Francisco
Top Events at Hornblower Cruises and Events - San Francisco
Recent Events at Hornblower Cruises and Events - San Francisco