Hornblower Cruises and Events - San Francisco
3 Pier 101
San Francisco
CA
94111
Pier 3 on The Embarcadero, Hornblower Landing
Venue Images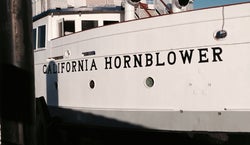 Hornblower Cruises and Events - San Francisco Tickets and Event Schedule
Wednesday, Jul 24, 2019 / 7:00pm (Boarding Begins at 6:30pm)

Thursday, Jul 25, 2019 / 6:30pm (Boarding Begins at 6:00pm)

Friday, Jul 26, 2019 / Noon (Boarding Begins at 11:30am)

Sunday, Jul 28, 2019 / 3:30pm (Boarding Begins at 3:00pm)

Tuesday, Jul 30, 2019 / 7:00pm (Boarding Begins at 6:30pm)

Thursday, Aug 1, 2019 / 6:30pm (Boarding Begins at 6:00pm)

Friday, Aug 2, 2019 / 9:00pm (Boarding Begins at 8:30pm)

Friday, Aug 2, 2019 / 7:30pm (Boarding Begins at 7:00pm)

Sunday, Aug 4, 2019 / 3:30pm (Boarding Begins at 3:00pm)

Tuesday, Aug 6, 2019 / 7:00pm (Boarding Begins at 6:30pm)

Thursday, Aug 8, 2019 / 6:30pm (Boarding Begins at 6:00pm)

Friday, Aug 9, 2019 / 7:30pm (Boarding Begins at 7:00pm)

Saturday, Aug 10, 2019 / 7:30pm (Boarding Begins at 7:00pm)

Sunday, Aug 11, 2019 / 3:30pm (Boarding Begins at 3:00pm)

Wednesday, Aug 14, 2019 / 7:00pm (Boarding Begins at 6:30pm)

Sunday, Aug 18, 2019 / 3:30pm (Boarding Begins at 3:00pm)

Wednesday, Aug 21, 2019 / 7:00pm (Boarding Begins at 6:30pm)

Thursday, Aug 22, 2019 / 6:30pm (Boarding Begins at 6:00pm)

Friday, Aug 23, 2019 / 7:30pm (Boarding Begins at 7:00pm)

Tuesday, Aug 27, 2019 / 7:00pm (Boarding Begins at 6:30pm)

Friday, Aug 30, 2019 / 9:00pm (Boarding Begins at 8:30pm)

Saturday, Aug 31, 2019 / 7:30pm (Boarding Begins at 7:00pm)

Sunday, Sep 1, 2019 / 5:00pm (Boarding Begins at 4:00pm)
Accessibility
Accessible or ADA seating may be available at this venue through Goldstar. Contact us before buying tickets to make arrangements.
Yes
Advisories
You must be age 21 or older to attend this event.
310 Hornblower Cruises and Events - San Francisco Tips
Dressy

3

Casual

2

Formal

1
The weather was Sunny with wind chill from the Bay/ Ocean. I wore A tank top with a denim blouse over it with black skinny jeans and black casual combat boots. Be sure to bring a coat or warm jacket or cardigan. It got chilly once in the bay with wind chills..
The weather was Windy, foggy, sunny. I wore Dress in layers with a warm sweater or coat..
Come on a empty stomach. You will be eating a 5 coarse meal. Very fulfilling.
I wore a casual black dress. I went off the recommended dress code provided and was a little perturbed when some attendees showed up in jeans and T-shirt's. Business casual would be proper. .
Can drive there a little early and easily park in the lot at Pier 3 for only $10....or ride Bart to Embarcadero and walk a few blocks....a relatively painless jaunt into the city.
Remember to tip according to full price of tickets and tip the music host please.
San Francisco Dinner Cruise
The weather was It was supposed to storm, but we took a chance and and it did not of course. We both grew up in S.F. so we were used to the weather changes and just prepared for it.. I wore We dressed for a night out on the town. I always carry ballet slippers to walk around after. Always have a coat in car and sweater or scarf with you..
San Francisco Dinner Cruise
Nearby Venues in San Francisco
Top Events at Hornblower Cruises and Events - San Francisco
Recent Events at Hornblower Cruises and Events - San Francisco