Highway 99 Blues Club
1414 Alaskan Way
Seattle
WA
98101
Venue Images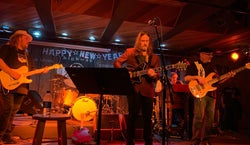 Accessibility
Accessible or ADA seating may be available at this venue through Goldstar. Contact us before buying tickets to make arrangements.
This venue is wheelchair accessible.
Advisories
You must be age 21 or older to enter this venue.
80 Highway 99 Blues Club Tips
Food and drinks for purchase

1
Make sure you call the venue for a table reservation.
Public Market parking was reasonable
once you purchase tickets, you still need to call the club and reserve seats!
Lisa Mann and Her Really Good Band
Seating is comfortable, but if you want to see the performers play --e.g. strumming the guitar, you would need to sit where you face the front of the state, as they might not turn toward your side as they perform.
Call ahead and make a reservation for a seat as getting these tickets just gets you in. If its crowded you stand.
Definitely reserve a table (separate from purchasing tickets). You'll get a much better view of the stage and be a lot more comfortable, long term.
With the construction downtown parking is more difficult. Come early
Top Events at Highway 99 Blues Club
Recent Events at Highway 99 Blues Club