The Triple Door
216 Union Street
Seattle
WA
98101
Corner of Union & 3rd Ave.
Venue Images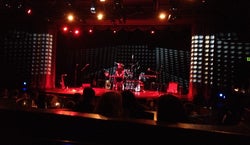 The Triple Door Tickets and Event Schedule
Saturday, Nov 17, 2018 / 10:00pm

Tuesday, Nov 20, 2018 / 7:30pm

Tuesday, Dec 4, 2018 / 7:30pm (Jean-Michel Blais)

Tuesday, Jan 8, 2019 / 7:30pm (Jesse Valenzuela)

Saturday, Jan 19, 2019 / 10:00pm

Sunday, Jan 20, 2019 / 7:00pm

Tuesday, Jan 22, 2019 / 7:30pm

Wednesday, Jan 23, 2019 / 7:30pm

Thursday, Jan 24, 2019 / 7:30pm

Friday, Jan 25, 2019 / 10:00pm
Accessibility
Accessible or ADA seating may be available. Please contact us before buying tickets to make arrangements.
312 The Triple Door Tips
Take public transit

1

Arrive early

1
Food and drinks for purchase

3
Parking is cheap and convenient, just next door 9 dollars downtown...a steal!
Go early. better service for food & drinks than just 30 min before curtain.
The weather was rainy. I wore dressy casual. Not a jeans and T-shirt thing- date nite wear..
Took the 545 metro into Seattle. Easy peasy. Arrived early and got a great seat.
Metro stops downtown at 3rd & Union; 1/2 blk from the Triple Door!
The weather was hot. I wore skort, top and no sweater or wrap, which would have been handy with the air conditioning going..
Jazz-Folk Singer-Songwriter Meklit Hadero
There is a parking garage literally RIGHT next to the venue. I don't recall the cost sadly (average for the area I think), but I will say it was very well guarded and if you do us it, remember to take your ticket with you as it is your key for elevator use! Also Parking technically begins on the 3rd level.
Parking Near The Triple Door
Click to View Interactive Map
Top Events at The Triple Door
Recent Events at The Triple Door