Greater Boston Stage Company
395 Main Street
Stoneham
MA
02180
Venue Images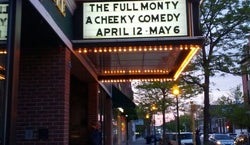 Greater Boston Stage Company Tickets and Event Schedule
Friday, Jan 25, 2019 / 7:30pm

Saturday, Jan 26, 2019 / 7:30pm

Friday, Feb 1, 2019 / 7:30pm

Saturday, Feb 2, 2019 / 7:30pm

Friday, Feb 15, 2019 / 8:00pm

Saturday, Feb 16, 2019 / 8:00pm

Thursday, Mar 14, 2019 / 7:30pm

Friday, Mar 15, 2019 / 8:00pm

Saturday, Mar 16, 2019 / 3:00pm

Saturday, Mar 16, 2019 / 8:00pm

Sunday, Mar 17, 2019 / 2:00pm

Thursday, Apr 25, 2019 / 7:30pm

Friday, Apr 26, 2019 / 8:00pm

Saturday, Apr 27, 2019 / 3:00pm

Saturday, Apr 27, 2019 / 8:00pm

Thursday, Jun 6, 2019 / 7:30pm

Friday, Jun 7, 2019 / 8:00pm

Saturday, Jun 8, 2019 / 3:00pm

Saturday, Jun 8, 2019 / 8:00pm

Sunday, Jun 9, 2019 / 2:00pm
Accessibility
Accessible or ADA seating is not available at this venue through Goldstar.
300 Greater Boston Stage Company Tips
Although the parking on the street is labeled as 2 hour, the time is not monitored after 6 pm.
Being Earnest
We tried the nearby Taj Indian Bistro and Lounge before the show - very good.
Being Earnest
Parking in square..or more behind theatre...we parked one block down in front of library. Easy peasy!
There is a Chinese/Japanese restaurant around the corner. The food is fresh and the service is suburb
I wore Black pants and a blouse.
Top Events at Greater Boston Stage Company
Recent Events at Greater Boston Stage Company