The Grove Theatre
276 E. Ninth Street
Upland
CA
91786
Venue Images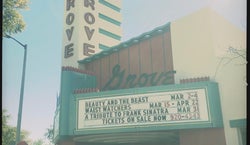 The Grove Theatre Tickets and Event Schedule
Saturday, Nov 24, 2018 / 8:00pm

Friday, Nov 30, 2018 / 8:00pm

Saturday, Dec 1, 2018 / 8:00pm

Friday, Dec 7, 2018 / 8:00pm

Saturday, Dec 8, 2018 / 8:00pm

Friday, Dec 14, 2018 / 8:00pm

Saturday, Dec 15, 2018 / 8:00pm

Friday, Dec 21, 2018 / 8:00pm

Monday, Dec 31, 2018 / 9:00pm

Friday, Feb 1, 2019 / 7:29pm

Saturday, Feb 2, 2019 / 2:00pm

Saturday, Feb 2, 2019 / 7:29pm

Sunday, Feb 3, 2019 / 2:00pm

Friday, Feb 8, 2019 / 7:29pm

Saturday, Feb 9, 2019 / 2:00pm

Saturday, Feb 9, 2019 / 7:29pm

Sunday, Feb 10, 2019 / 2:00pm

Thursday, Feb 14, 2019 / 8:00pm

Friday, Feb 15, 2019 / 7:29pm

Saturday, Feb 16, 2019 / 2:00pm

Saturday, Feb 16, 2019 / 7:29pm

Sunday, Feb 17, 2019 / 2:00pm

Friday, Feb 22, 2019 / 7:29pm

Saturday, Feb 23, 2019 / 2:00pm

Saturday, Feb 23, 2019 / 7:29pm

Sunday, Feb 24, 2019 / 2:00pm

Friday, Mar 1, 2019 / 7:29pm

Saturday, Mar 2, 2019 / 2:00pm

Saturday, Mar 2, 2019 / 7:29pm

Sunday, Mar 3, 2019 / 2:00pm
Accessibility
Accessible or ADA seating may be available. Please contact us before buying tickets to make arrangements.
477 The Grove Theatre Tips
Parking is free

3

Park in lot

2

Parking is a breeze

2
Dine before you go

3

Food and drinks for purchase

1
The weather was Nice, 60°. I wore Turtle neck, jeans, and boots..
If you're looking for glamour, go somewhere else. But if you're just looking for a fun, casual time, this venue is great.
Elvis Palooza: Charity Event
We ate at the Mexican restaurant across the street before the show. It was good, although a little slow since it was packed. There is a bar and grill nearby and an Italian restaurant.
Elvis Palooza: Charity Event
The weather was moderate. I wore jeans, short-sleeved sweater with long-sleeved cardigan, loafers.
Elvis Palooza: Charity Event
Popcorn and drinks $2 each or popcorn with souvenir bag for $4.
The weather was sunny-hot. I wore jeans, flats and a cotton shirt .
Bring cash, the concession stand only operates on a cash only basis.
Parking Near The Grove Theatre
Click to View Interactive Map
Nearby Venues in Inland Empire
Top Events at The Grove Theatre
Recent Events at The Grove Theatre