J.R.'s Comedy Club
27630 The Old Road
Valencia
CA
91353
Venue Images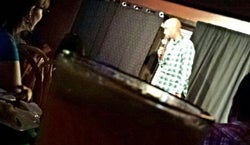 Accessibility
Accessible or ADA seating may be available at this venue through Goldstar. Contact us before buying tickets to make arrangements.
About J.R.'s Comedy Club
J.R.'s Comedy Club is the place for comedy in Valencia. Located inside the Marie Callender's restaurant, they have an extensive menu of food and drink options available.
Advisories
A two-item per person minimum purchase is required at this venue. Those younger than 18 years old must be accompanied by an adult.
Nearby Venues in Los Angeles
Top Events at J.R.'s Comedy Club
Recent Events at J.R.'s Comedy Club