Folger Theatre
201 East Capitol Street, SE
Washington
DC
20003
Venue Images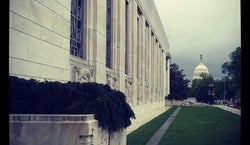 Folger Theatre Tickets and Event Schedule
Wednesday, Nov 21, 2018 / 7:30pm

Wednesday, Nov 21, 2018 / 7:30pm

Friday, Nov 23, 2018 / 2:00pm

Friday, Nov 23, 2018 / 8:00pm

Saturday, Nov 24, 2018 / 2:00pm

Saturday, Nov 24, 2018 / 8:00pm

Sunday, Nov 25, 2018 / 2:00pm

Sunday, Nov 25, 2018 / 7:00pm

Tuesday, Nov 27, 2018 / 7:30pm

Wednesday, Nov 28, 2018 / 7:30pm

Thursday, Nov 29, 2018 / 7:30pm

Friday, Nov 30, 2018 / 8:00pm

Saturday, Dec 1, 2018 / 2:00pm

Saturday, Dec 1, 2018 / 8:00pm

Sunday, Dec 2, 2018 / 2:00pm

Sunday, Dec 2, 2018 / 7:00pm

Monday, Dec 10, 2018 / 7:30pm

Sunday, Dec 16, 2018 / 5:00pm

Tuesday, Dec 18, 2018 / 7:30pm

Wednesday, Dec 19, 2018 / 7:30pm

Thursday, Dec 20, 2018 / 7:30pm

Sunday, Dec 23, 2018 / 2:00pm

Monday, Mar 11, 2019 / 7:30pm

Tuesday, May 7, 2019 / 7:30pm
Accessibility
Accessible or ADA seating is regularly available. Please contact us after buying tickets by replying to your confirmation email to make arrangements.
The theater is wheelchair accessible. For wheelchair seating, please contact us to make arrangements.
325 Folger Theatre Tips
Take public transit

3

Street parking only

1

Arrive early

1
Folger's exhibitions are always very interesting. Plan some extra time before the play to see the current one.
King John
The weather was Clear and in the 50s. I wore Comfortable clothes. .
King John
Don't buy tickets in the side balconies. You can't see the play.
Folger is a very easy walk from Union Station.
Pre-order your concessions. Intermission is quick and lines can be long.
The show actually starts at 7, not 7:30!!
We parked on the street around the corner with no problems. It was a Sunday night
Parking Near Folger Theatre
Click to View Interactive Map
Nearby Venues in Washington, D.C.
Top Events at Folger Theatre
Recent Events at Folger Theatre