The Kennedy Center - Opera House
2700 F Street, NW
Washington
DC
20566
Venue Images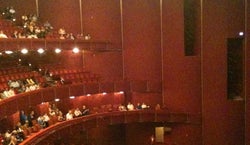 The Kennedy Center - Opera House Tickets and Event Schedule
Thursday, Jun 27, 2019 / 7:30pm

Friday, Jun 28, 2019 / 7:30pm

Saturday, Jun 29, 2019 / 1:30pm

Saturday, Jun 29, 2019 / 7:30pm

Sunday, Jun 30, 2019 / 1:30pm

Sunday, Jun 30, 2019 / 7:30pm

Tuesday, Jul 2, 2019 / 7:30pm

Wednesday, Jul 3, 2019 / 1:30pm

Wednesday, Jul 3, 2019 / 7:30pm

Friday, Jul 5, 2019 / 1:30pm

Friday, Jul 5, 2019 / 7:30pm

Saturday, Jul 6, 2019 / 1:30pm

Saturday, Jul 6, 2019 / 7:30pm

Sunday, Jul 7, 2019 / 1:30pm

Thursday, Jul 18, 2019 / 7:30pm

Friday, Jul 19, 2019 / 7:30pm

Saturday, Jul 20, 2019 / 1:30pm

Saturday, Jul 20, 2019 / 7:30pm

Sunday, Jul 21, 2019 / 1:30pm

Sunday, Jul 21, 2019 / 7:30pm

Tuesday, Jul 23, 2019 / 7:30pm

Wednesday, Jul 24, 2019 / 7:30pm

Thursday, Jul 25, 2019 / 7:30pm

Friday, Jul 26, 2019 / 7:30pm

Saturday, Jul 27, 2019 / 1:30pm

Saturday, Jul 27, 2019 / 7:30pm

Sunday, Jul 28, 2019 / 1:30pm

Sunday, Jul 28, 2019 / 7:30pm

Tuesday, Jul 30, 2019 / 7:30pm

Wednesday, Jul 31, 2019 / 7:30pm

Thursday, Aug 1, 2019 / 7:30pm

Friday, Aug 2, 2019 / 7:30pm

Saturday, Aug 3, 2019 / 1:30pm

Saturday, Aug 3, 2019 / 7:30pm

Sunday, Aug 4, 2019 / 1:30pm

Sunday, Aug 4, 2019 / 7:30pm

Tuesday, Aug 6, 2019 / 7:30pm

Wednesday, Aug 7, 2019 / 7:30pm

Thursday, Aug 8, 2019 / 7:30pm

Friday, Aug 9, 2019 / 7:30pm

Saturday, Aug 10, 2019 / 1:30pm

Saturday, Aug 10, 2019 / 7:30pm

Sunday, Aug 11, 2019 / 1:30pm

Sunday, Aug 11, 2019 / 7:30pm

Tuesday, Aug 13, 2019 / 7:30pm

Wednesday, Aug 14, 2019 / 1:30pm

Wednesday, Aug 14, 2019 / 7:30pm

Thursday, Aug 15, 2019 / 7:30pm

Friday, Aug 16, 2019 / 7:30pm

Saturday, Aug 17, 2019 / 1:30pm

Saturday, Aug 17, 2019 / 7:30pm

Sunday, Aug 18, 2019 / 1:30pm

Tuesday, Aug 20, 2019 / 7:30pm

Wednesday, Aug 21, 2019 / 7:30pm

Thursday, Aug 22, 2019 / 7:30pm

Friday, Aug 23, 2019 / 7:30pm

Saturday, Aug 24, 2019 / 1:30pm

Saturday, Aug 24, 2019 / 7:30pm

Sunday, Aug 25, 2019 / 1:30pm

Sunday, Aug 25, 2019 / 7:30pm

Tuesday, Aug 27, 2019 / 7:30pm

Wednesday, Aug 28, 2019 / 7:30pm

Thursday, Aug 29, 2019 / 7:30pm

Friday, Aug 30, 2019 / 7:30pm

Saturday, Aug 31, 2019 / 1:30pm

Saturday, Aug 31, 2019 / 7:30pm

Sunday, Sep 1, 2019 / 1:30pm

Sunday, Sep 1, 2019 / 7:30pm

Tuesday, Sep 3, 2019 / 7:30pm

Wednesday, Sep 4, 2019 / 1:30pm

Wednesday, Sep 4, 2019 / 7:30pm

Thursday, Sep 5, 2019 / 7:30pm

Friday, Sep 6, 2019 / 7:30pm

Saturday, Sep 7, 2019 / 1:30pm

Saturday, Sep 7, 2019 / 7:30pm
Accessibility
Accessible or ADA seating may be available at this venue through Goldstar. Contact us before buying tickets to make arrangements.
http://www.kennedy-center.org/accessibility/
802 The Kennedy Center - Opera House Tips
Dressy

9

Casual

3

Formal

1
Take public transit

7

Parking is expensive

4

Arrive early

3
Food and drinks for purchase

6

Dine before you go

5
Nearby Venues in Washington, D.C.
Top Events at The Kennedy Center - Opera House
Recent Events at The Kennedy Center - Opera House