The National Theatre
1321 Pennsylvania Avenue
Washington
DC
20004
Between 13th St NW and 14th St NW
Venue Images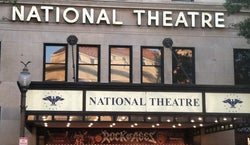 The National Theatre Tickets and Event Schedule
Thursday, Nov 15, 2018 / 7:30pm

Friday, Nov 16, 2018 / 8:00pm

Saturday, Nov 17, 2018 / 2:00pm

Saturday, Nov 17, 2018 / 8:00pm

Tuesday, Nov 27, 2018 / 7:30pm

Wednesday, Nov 28, 2018 / 7:30pm

Thursday, Nov 29, 2018 / 7:30pm

Friday, Nov 30, 2018 / 8:00pm

Sunday, Dec 2, 2018 / 7:30pm

Tuesday, Dec 4, 2018 / 7:30pm

Wednesday, Dec 5, 2018 / 7:30pm

Thursday, Dec 6, 2018 / 7:30pm

Friday, Dec 7, 2018 / 8:00pm

Sunday, Dec 9, 2018 / 7:30pm

Tuesday, Dec 11, 2018 / 7:30pm

Wednesday, Dec 12, 2018 / 7:30pm

Thursday, Dec 13, 2018 / 7:30pm

Friday, Dec 14, 2018 / 8:00pm

Saturday, Dec 15, 2018 / 2:00pm

Saturday, Dec 15, 2018 / 8:00pm

Sunday, Dec 16, 2018 / 2:00pm

Sunday, Dec 16, 2018 / 7:30pm

Tuesday, Dec 18, 2018 / 7:30pm

Wednesday, Dec 19, 2018 / 7:30pm

Thursday, Dec 20, 2018 / 7:30pm

Friday, Dec 21, 2018 / 8:00pm

Saturday, Dec 22, 2018 / 2:00pm

Saturday, Dec 22, 2018 / 8:00pm

Sunday, Dec 23, 2018 / 2:00pm

Sunday, Dec 23, 2018 / 7:30pm

Tuesday, Dec 25, 2018 / 7:30pm

Wednesday, Dec 26, 2018 / 7:30pm

Thursday, Dec 27, 2018 / 7:30pm

Friday, Dec 28, 2018 / 8:00pm

Saturday, Dec 29, 2018 / 2:00pm

Saturday, Dec 29, 2018 / 8:00pm

Sunday, Dec 30, 2018 / 2:00pm

Sunday, Dec 30, 2018 / 7:30pm
Accessibility
Accessible or ADA seating may be available. Please contact us before buying tickets to make arrangements.
http://thenationaldc.com/plan-your-visit/accessibility/
380 The National Theatre Tips
Casual

4

Formal

1

Dressy

1
Take public transit

4

Splurge for valet

1

Shuttle to/from lot

1
Central Michel Richard at 10th and penn
All the seats are good, but pay for a closer seat if you can. It's worth it. -Cb
Beetlejuice
Dinner at The Hamilton (just down the street from the theater) was super. Our reservation was for 5pm so we were seated by the time the restaurant quickly filled up. Service and food was outstanding. Reservations recommended.
The weather was Theater was cold in Mezz level . I wore socks/boots to avoid cold feet. For Betelgeuse, MANY in the audience were dressed in black and white stripes. Made the people watching even more fun! .
When picking up tix at Will Call, use the entrance to the far right to avoid being re-directed through the throngs blocking the other doors. Arrive early to make it a stress-free occasion.
If you need to park, I recommend the lot along E Street just across from the FBI Building. It's a flat $10 on evenings and weekends (closes at 11pm) and quite possibly the best parking "deal" in Penn Quarter.
Even if you can find good parking, it's so hard to drive in DC, (so many pedestrians) and so easy to get a ticket. My experience with prepaid parking online service in DC and Arlington hasn't been so smooth in the past either - I've had to struggle to get into a garage that hasn't yet opened (for which I prepaid), as well as double pay to get out (no attendant to whom to show my receipt). Farragut West isn't that far and a pleasant walk.
Parking Near The National Theatre
Click to View Interactive Map
Nearby Venues in Washington, D.C.
Top Events at The National Theatre
Recent Events at The National Theatre