The National Theatre
1321 Pennsylvania Avenue
Washington
DC
20004
Between 13th St NW and 14th St NW
Venue Images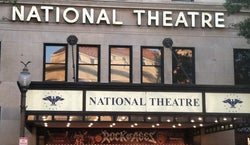 The National Theatre Tickets and Event Schedule
Tuesday, Apr 23, 2019 / 7:30pm

Wednesday, Apr 24, 2019 / 7:30pm

Thursday, Apr 25, 2019 / 7:30pm

Friday, Apr 26, 2019 / 8:00pm

Saturday, Apr 27, 2019 / 2:00pm

Saturday, Apr 27, 2019 / 8:00pm

Sunday, Apr 28, 2019 / 2:00pm

Sunday, Apr 28, 2019 / 7:30pm

Thursday, May 2, 2019 / 7:30pm

Friday, May 3, 2019 / 8:00pm

Saturday, May 4, 2019 / 2:00pm

Saturday, May 4, 2019 / 8:00pm

Sunday, May 5, 2019 / 2:00pm

Sunday, May 5, 2019 / 7:30pm

Thursday, May 9, 2019 / 7:30pm

Friday, May 10, 2019 / 8:00pm

Saturday, May 11, 2019 / 2:00pm

Saturday, May 11, 2019 / 8:00pm

Sunday, May 12, 2019 / 2:00pm

Sunday, May 12, 2019 / 7:30pm
Accessibility
Accessible or ADA seating may be available at this venue through Goldstar. Contact us before buying tickets to make arrangements.
http://thenationaldc.com/plan-your-visit/accessibility/
393 The National Theatre Tips
Casual

4

Dressy

2

Formal

1
Take public transit

5

Park in lot

3

Parking is expensive

1
Take the metro to Metro Center and walk if the weather is fine!
Central Michel 1001 pa ave good and close for dinner
I used SpotHero to grab $14 parking.
The weather was cool. I wore slacks, a knit shirt, and a sweater.
I use Panda Parking/Spot Hero and found less expensive parking about 2 blocks away.
I used Spot Hero to reserve parking in advance, about a block away. The app allows you to see all available parking options in the area and pay in advance. It was a good way to compare prices and puck the best option.
Beautiful – The Carole King Musical
Parking lot at 610 12th St has no stairs or elevator for customers to use. Customers must walk on driveway from lower levels to exit lot and to get cars.
Nearby Venues in Washington, D.C.
Top Events at The National Theatre
Recent Events at The National Theatre