MetroStage
1201 North Royal Street
Alexandria
VA
22314
Venue Images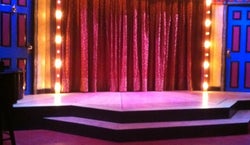 Accessibility
Accessible or ADA seating may be available at this venue through Goldstar. Contact us before buying tickets to make arrangements.
Advisories
The theater is air conditioned. Please dress accordingly.
291 MetroStage Tips
Park in lot

3

Parking is free

3

Parking is a breeze

1
Dine before you go

3

Food and drinks for purchase

1
Parking on the street is easy. Finding the theater is harder as the sign does not show from N. Royal Street. It is near the point where Royal ends -- on the right as you face NOrth and set in from the road. There are three buildings. You walk on a path between the buildings, then you can see the sign.
Recommend Thanida Thai before the show. It's right around the corner, and they served a delicious dinner fast (because we were running a little late).
There are some terrific restaurants in the area. We can recommend Bastille, a very short drive.
parking is free and plentiful!
A Broadway Christmas Carol
wonderful Hibachi restaurant 5 minutes away
A Broadway Christmas Carol
The weather was sunny and cool,. I wore jeans and a nice top..
Nearby Venues in Washington, D.C.
Recent Events at MetroStage