The Westside Theatre - Downstairs Theatre
407 West 43rd Street
New York City
NY
10036
Venue Images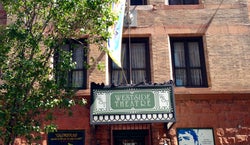 The Westside Theatre - Downstairs Theatre Tickets and Event Schedule
Wednesday, Jan 23, 2019 / 8:00pm

Thursday, Jan 24, 2019 / 7:00pm

Friday, Jan 25, 2019 / 7:00pm

Saturday, Jan 26, 2019 / 3:30pm

Saturday, Jan 26, 2019 / 8:30pm

Sunday, Jan 27, 2019 / 3:30pm

Tuesday, Jan 29, 2019 / 7:00pm

Wednesday, Jan 30, 2019 / 2:00pm

Wednesday, Jan 30, 2019 / 8:00pm

Thursday, Jan 31, 2019 / 7:00pm

Friday, Feb 1, 2019 / 7:00pm

Saturday, Feb 2, 2019 / 3:30pm

Saturday, Feb 2, 2019 / 8:30pm

Sunday, Feb 3, 2019 / 3:30pm

Tuesday, Feb 5, 2019 / 7:00pm

Wednesday, Feb 6, 2019 / 2:00pm

Wednesday, Feb 6, 2019 / 8:00pm

Thursday, Feb 7, 2019 / 7:00pm

Friday, Feb 8, 2019 / 7:00pm

Saturday, Feb 9, 2019 / 3:30pm

Saturday, Feb 9, 2019 / 8:30pm

Sunday, Feb 10, 2019 / 3:30pm

Tuesday, Feb 12, 2019 / 7:00pm

Wednesday, Feb 13, 2019 / 2:00pm

Wednesday, Feb 13, 2019 / 8:00pm

Thursday, Feb 14, 2019 / 7:00pm

Friday, Feb 15, 2019 / 7:00pm

Saturday, Feb 16, 2019 / 3:30pm

Saturday, Feb 16, 2019 / 8:30pm

Sunday, Feb 17, 2019 / 3:30pm

Tuesday, Feb 19, 2019 / 7:00pm

Wednesday, Feb 20, 2019 / 2:00pm

Wednesday, Feb 20, 2019 / 8:00pm

Thursday, Feb 21, 2019 / 7:00pm

Friday, Feb 22, 2019 / 7:00pm

Saturday, Feb 23, 2019 / 3:30pm

Saturday, Feb 23, 2019 / 8:30pm

Sunday, Feb 24, 2019 / 3:30pm
Accessibility
Accessible or ADA seating may be available at this venue through Goldstar. Contact us before buying tickets to make arrangements.
Advisories
For this event, the Sit With Friends feature has been disabled because the ticket supplier is not able to seat you together with parties who purchased separately. You will only be seated together for tickets purchased in a single transaction. For those patrons using wheelchairs or scooters, a lift provides access to wheelchair locations in the right rear section of the orchestra. Wheelchair locations must be arranged at least 48 hours prior to any performance and are subject to availability. Any patron holding tickets for wheelchair locations must occupy a wheelchair or scooter because theatre seats are removed to create these locations.
60 The Westside Theatre - Downstairs Theatre Tips
The weather was cold and clear. I wore a suit.
Othello: The Remix
Eat at Bea, an American bar restaurant, which locate right next door to the theater
Be ready to laugh like you haven't laughed in a long time.
Free street parking after 7pm on Sat.
They were selling beer and wine with simple snacks like candy. No food or drink was permitted in the theater though.
DISENCHANTED!
I came in from NJ via NJ Transit though Port Authority. The venue was 2 blocks away.
DISENCHANTED!
The weather was Cold (March in NYC). I wore casual wear (jeans and a sweater)..
DISENCHANTED!
Nearby Venues in New York
Top Events at The Westside Theatre - Downstairs Theatre
Recent Events at The Westside Theatre - Downstairs Theatre