Pier 92
711 12th Avenue
New York
NY
10019
52nd St and Westside Highway
Venue Images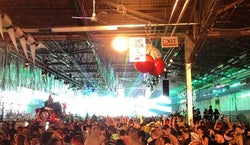 Accessibility
Accessible or ADA seating is regularly available. Please contact us after buying tickets by replying to your confirmation email to make arrangements.
*
Advisories
This voucher is good for admission to the Architectural Digest Home Design Show.. It is also valid for one full-year (12-month) digital subscription to Architectural Digest magazine. If you are a current subscriber to the magazine, your subscription will be extended by 12 issues. The digital subscription will be sent to the e-mail address given in redemption process. Children age 11 or younger do not need a ticket and will be admitted for free at the venue with paid adult.
14 Pier 92 Tips
Don't bring a lot of stuff to carry unless you are willing to wait in the coat check line.
The Armory Show
Bring a camera to capture your favorites!
The Armory Show
Overpriced refreshments, but expected; it's logical to bring some light food on your own.
$4 donuts $8 soup
The Armory Show
Plenty of cabs in front
The Armory Show
Have to cross highway to get taxi late in afternoon
Parking Near Pier 92
Click to View Interactive Map
Nearby Venues in New York